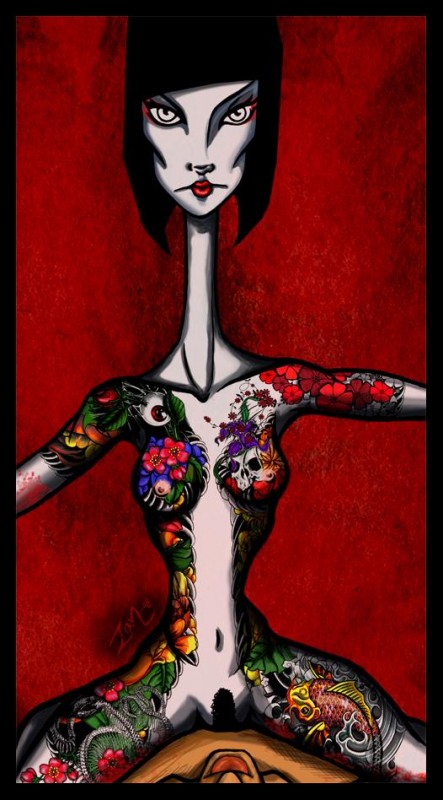 Es absurdo concebir ideas definitivas, irrisorias en comparación con la historia de todos los tiempos, de todas las ideas. Defenderlas e imponer los dogmas resulta inútil. El animal humano ha perdido toda su incidencia y se presenta ahora como icono representativo de de la mecanización social y su clasificación organizada en modelos y estereotipos. los dioses de ésta nueva era son antiterroristas y se manifiestan tiernos y discretos, anestesiantes y fulminantes. Los nuevos mandamientos no han sido escritos; peor aún, aparecen en forma de bienestar o calma. Tu máxima gratificación el dinero, comprarás una casa de diseño y la decorarás con muebles de las revistas de los grandes almacenes, el mejor atrezzo del nuevo gran teatro del mundo. Tendrás hijos, amigos modélicos y bien situados, y un coche caro, pero seguro, asegurado. Invertirás en bolsa y en cajas de pensiones, residencias y defunciones.
Sorollisme no és sinónimo de oposicón ni antónimo de activismo, supone reflexión y punto de vista, insubordinación a los aspectos ilógicos del sistema global, local. Es fruto del entorno impregnado de ruidos estridentes y desagradables, repetitivos y desorganizados, símptomas de la decadéncia y la iresponsabilidad, pero para nada culpables de lo que los causa. Fruto del pasado avantguardista y su imaginación. Anti arte-clasificado y dispuesto a convivir y aceptar los errores y su disposición: ruidos que forman sonidos y estructuras rítmicas,  potencial armamentístico y destructivo, al igual que impulsivo y creador, descubridor. Caos acústico que genera música, música que genera expressión. Ruido, gráfico o auditivo, ruido que no prescinde de los sonidos.
Sorollisme rechaza los conceptos clausurados y limitados, e interpreta la percepción del entorno y los paisajes humanos como ruido, interpretación no filosófica, pero si poética: poesía no es habilidad, ni una idea. Es un estado.
El valor de la cultura es limitado y burocrático.
Musica Vermella is a netlabel created as a link between Barcelona and Berlin releasing music and graphic artworks in digital and mostly in free format and under Creative Commons licenses.
Música Vermella is Dubstep, is HipHop, is Braindance, Bass music, Breakcore, Concrete Music, is Grime, Dub, Wonky, Breakstep. Is music, red music.
PORTFOLIO
Here you can download our showcase proposition:
CREATIVE COMMONS LICENSE
Attribution-NonCommercial-ShareAlike 3.0
You are free:
to Share — to copy, distribute and transmit the work

to Remix — to adapt the work
Under the following conditions:
Attribution — You must attribute the work in the manner specified by the author or licensor (but not in any way that suggests that they endorse you or your use of the work).

Noncommercial — You may not use this work for commercial purposes.

Share Alike — If you alter, transform, or build upon this work, you may distribute the resulting work only under the same or similar license to this one.
With the understanding that:
Waiver — Any of the above conditions can be waived if you get permission from the copyright holder.

Public Domain — Where the work or any of its elements is in the public domain under applicable law, that status is in no way affected by the license.

Other Rights — In no way are any of the following rights affected by the license:

Notice — For any reuse or distribution, you must make clear to others the license terms of this work. The best way to do this is with a link to this web page.
To book someone of our artists you have to send us an e-mail, using our contact box, or sending it directly at contact (at) musicavermella.com, specifying the conditions, date and place of the concert, and we'll send you our standard cache.





RSS i PODCAST
Si vols tenir accés a les darreres publicacions i notícies de Música Vermella de manera ràpida, senzilla i des de qualsevol lloc, subscriu-te als RSS.
A més, a diferència de molts RSS, els de Música Vermella són complerts, és a dir, no emprem resums i procurem adjuntar-hi tota la informació possible (zips, mp3 i demés).
Què és RSS?
RSS són les sigles de l'anglès Really Simple Sindication que traduït seria "Redifusió Realment Simple". L'RSS és una forma de distribuir continguts que identifica les parts més importants d'una notícia, com poden ser el títol, un resum i / o unes imatges.
Què és un Podcast?
Podcast deriva de les expressions anglosaxones Play-On-Demand (POD), que vol dir "reprodueix en demanda", i broadcasting, que vol dir radiodifusió.
El Podcasting permet l'enregistrament de ràdio per internet o programes d'audio similars (com les publicacions de Música Vermella). Aquests enregistraments es poden descarregar a un reproductor portàtil (com per exemple un iPod) per poder escoltar-los a qualsevol lloc o bé directament des de l'ordinador.
Alguns dels programes de podcasting més coneguts són: iTunes, gPodder, Miro, Doppler, Amarok, Winamp...
Com subscriure-s'hi?
Per subscriure't a qualsevol RSS necessitaràs un lector o afegidor d'RSS. Aquests poden ser pàgines web, aplicacions, navegadors, aplicacions per a mòbil...
Pàgines web. Google Reader, MyYahoo, NetVibes o Bloglines.

Només cal que et registris en qualsevol d'aquestes pàgines i afegir-hi les subscripcions que vulguis. Gràcies a treballar des d'una pàgina web podràs accedir les teves subscripcions des d'arreu del món, incloent dispositius mòbils. Sens dubte aquesta és l'opció més encertada.

Navegadors. Firefox, Safari i Google Chrome.

Els Navegadors Firefox i Safari duen per defecte lectors RSS que et permetran afegir aquests com a preferits. Google Chrome en canvi no duu lector RSS per defecte però els mateixos desenvolupadors n'han creat una extensió.

Aplicacions. RSSOwl, Great News...

Són molts els lectors RSS que estan en format aplicació. Al títol n'hem esmentat un parell però si feu una cerca al google ràpidament en trobareu molts més.
Però com ho faig?
Fes clic a l'enllaç RSS que més t'atragui i copia l'adreça del navegador o bé simplement fes clic dret sobre l'enllaç i després sobre "Copia la ruta de l'enllaç".
Subscriu-te a l'RSS que més t'agradi o a tots!